September 25, 2019
A wetland ecology research technician position is available through the University of Maryland Palmer Lab. This is full time with benefits and is available immediately or until filled. The field sites are in Maryland but the research is part of an NSF funded project with a dynamic team including: Palmer Lab members, Va Tech scientists Erin Hotchkiss, Durelle Scott, Daniel McLaughlin AND Univ Alabama's Nate Jones. The project focuses on wetlandscape hydrology and carbon biogeochemistry.
Full description below:
RESEARCH ASSISTANT (TECH) POSITION IN AQUATIC ECOLOGY
Position: Full-time Research Assistant position available to help conduct ongoing research in wetlands and streams of the eastern shore, MD. The focus of the research program is to explore hydrological connectivity and carbon dynamics in seasonally inundated wetlands (Delmarva Bays). Successful applicant would be part of a dynamic team of researchers and students. Duties: The researcher will conduct field work in wetlands and streams, and laboratory work at the University of Maryland (College Park). Specific duties include but are not limited to: water sample and data collection, stormflow sampling, maintenance and use of environmental sensors, and laboratory analysis of dissolved, particulate, and gas constituents.
Required Qualifications:
An MS degree in environmental science-related field or a BS plus at least one year of work experience in biogeochemistry or hydrology.
Previous experiences conducting field work and is willing to work in harsh weather conditions; must be able to perform physical demanding tasks such as carrying heavy field equipment.
Laboratory experience, particularly with sensitive analytical instruments.
Data management skills including familiarity with QA/QC, Microsoft Office products (i.e., Word, Excel, Access) and, ideally, R statistical software.
Excellent written, oral, and organizational skills.
Willing to occasionally work evenings, early mornings, and weekends; reliable automobile transportation and clean driving license is required.
Desired Qualifications:
Degree in field focused on aquatic ecosystems.
Previous experiences in measuring hydrological parameters, collection and analysis of water and gas chemistry samples, and installing, downloading and maintenance of in situ, environmental sensors.
Salary: The University of Maryland offers a competitive salary dependent upon qualifications. Duration of appointment is for at least one year with the possibility of two additional years contingent upon performance evaluation and continued project funding. A comprehensive fringe benefit package is also available.
To Apply: Send application to Dr. Michael Williams (miwillia@umd.edu). Application materials include: i) letter describing prior work experience as it pertains to above qualifications; ii) resume/CV; and contact information for two references.
September 24, 2019
Palmer and Ruhi review research advances in understanding how river flow regimes influence restoration via influences on both river fauna and river ecosystem functioning.
July 30, 2019
The Palmer Lab is looking for new M.S. or PhD students beginning in January 2020 or summer 2020. Applicants should be interested in working with a dynamic multi-institutional team that includes faculty from: the University of Maryland (Palmer, Drs. Michael Williams and Dr. Kate Tully), Virginia Tech (Drs. Erin Hotchkiss, Daniel McLaughlin, and Durrell Scott), and University of Alabama (Dr. Nate Jones). The NSF funded project focuses on understanding the relationship between wetland-scale hydrology and carbon biogeochemistry. While graduate students will have freedom to develop their own research questions, research could include: measuring or modeling dynamic patterns of water inundation, surface-subsurface exchange, and movement across headwater wetlands and catchments; using high-frequency data to measure and model sources and processes controlling wetland CO2, CH4, and O2 cycling and fate in headwater networks; using hydrologic and organic matter tracers to better understand the movement of water and carbon across catchments; or linking hydrologic measurements and modeling to inform variation in carbon biogeochemistry at wetland and catchment scales.
Background: Worldwide, low-lying areas once rich in forested wetlands have been converted to agricultural production after draining and filling. Prior to their loss, the wetlands reduced flooding through water storage, provided downstream environments with an important energy source in the form of dissolved organic carbon, and played a critical role in regional carbon budgets. This research will test how spatiotemporal changes in surface and subsurface hydrology govern carbon dynamics in wetland-rich landscapes. Using coupled empirical and modeling components, we will quantify: (1) dynamics of surface water connections and surface-subsurface exchange at wetland and catchment scales; and (2) consequent hydrologic influences on wetland- and catchment-scale carbon dynamics. The study sites are on the Delmarva Peninsula of Maryland. Our research will integrate hydrologic sciences, ecosystem ecology, biogeochemistry, and restoration science; and ultimately, help inform wetland restoration and land management across the coastal plain region.
Successful applicants will have: a keen interest in ecosystem ecology, biogeochemistry, and/or ecohydrology; research and scientific writing experience through previous employment and/or studies; and the ability to work well independently and in groups. Candidates with strong quantitative skills are especially encouraged to respond to this call. In most cases, Ph.D. applicants should have the equivalent of a M.S. from the United States (2-3 year program with a research thesis), but exceptions with significant research and publication experience will be considered. To enhance the experience, students have the opportunity to be co-advised by another one of the 5-faculty member research team.
Required Qualifications:
A B.S. or M.S. in environmental science, civil/environmental engineering, or a closely related discipline. Some biogeochemistry or hydrologic work experience.
Preferred Qualifications:
Previous research or course work that may help link hydrologic, biogeochemical, and ecological processes.
Relevant analytical skills: scripting languages (e.g., R, Python, and/or Matlab), geospatial analysis (e.g., ArcGIS, QGIS, and/or Whitebox GAT), and as appropriate for your research interests, hydrologic modeling (e.g., HydroGeoSphere, MIKE-SHE, and/or MODFLOW)
Individuals should send an email statement of research interests, C.V., transcript, and GRE scores to mpalmer@umd.edu and put "graduate positions" in the subject title along with your last name.
April 18, 2019
Margaret Palmer was recently interviewed about the status of restoration in North Korea, based on her first-hand experience during a 2013 science diplomacy conference about deforestation and soil health. Check out the story at Energy & Environment News.
April 2, 2019
We agree with Muller (2019) that there are important reasons for building dams, particularly in flood-prone and poor countries. However, we contest that among these is that dam reservoirs may emit less greenhouse gas emissions (GHG) than pre-flood landscapes. Recent work shows that increased fluxes of methane following dam construction can be fully attributed to the reservoir's presence due to gas bubbling, outgassing at turbines, and fluxes from downstream and drawdown areas (Nakayama and Pelletier 2018).
Science to support Muller's assertion that "a more nuanced approach to their [wetland] management …" could lead to a reduction in emissions is lacking. Natural wetlands outpace biogeochemical functioning of those created and restored, including carbon sequestration rates. Altering wetlands generally leads to large increases in their radiative forcing (Petrescu et al. 2015), and wetland conservation remains foremost for retaining the wetland carbon sink and other ecosystem services. We agree advances in freshwater sciences need integrating into IPCC guidelines, but assert they must account for new methane emissions facilitated by reservoirs, and recognize our limited ability to replicate the role of natural wetlands in the global carbon cycle.
Muller's social arguments in support of dams—provisioning for and protecting people—are valuable but must be considered in light of the wide uncertainty associated with socio-environmental futures. A dam presents enormous up-front costs and is an estimated 50-year economic commitment, yet in that timeframe population needs can shift, and environmental change can nullify the dam's initial design. It is imperative to weigh the current benefits of dam building against the reality that dams potentially "lock-in" future populations to certain economic and political paths when they will likely benefit the most from alterative adaptive paths (Haasnoot et al. 2013).
Kelly Hondula, Graham Stewart, and Margaret Palmer
December 9, 2018
Monday
Seeing the forest for the trees: Using long-term observations from a forest biodiversity experiment to examine the effect of forest restoration and stand diversity on catchment hydrology.
Nate Jones, Monday 13:40 - 18:00, Poster H13J-1868
Tuesday
Seasonal hydrologic connectivity and site-level differences influence wetland DOM composition and photoreactivity.
Alec Armstrong, Tuesday 8:00AM to 12:20PM, Poster B21I-2449
Urban legacies: Aquatic stressors and low aquatic biodiversity persist despite implementation of stormwater control measures
Rosemary Fanelli (now at USGS), Tuesday, 08:00 - 12:20, Poster H21O-1901
Environmental problems are social problems: Lessons learned from geoscience-social science collaborations
Margaret Palmer (invited), Tuesday 13:44 - 13:47, eLightning Theater II
Hydrologic drivers of soil organic carbon stabilization in seasonally-saturated wetlands.
Anna Kottkamp, Tuesday 13:40 to 18:00, Poster B23G-2594
Wednesday
Methane-cycling microbial communities vary along a hydrologic gradient in depressional freshwater wetland soils.
Christine Maietta, Wednesday 13:40 to 18:00, Poster B33O-2885
Thursday
Greenhouse gas fluxes in restored and natural freshwater depressional wetlands.
Graham Stewart, Thursday 8:00 to 12:20, Poster B41E-2758
Farming carbon: the link between saltwater intrusion and carbon storage in coastal agricultural fields
Elizabeth de la Reguera, Thursday 08:45 - 09:00, Session B41C in Room 147B
Scaling up field measurements of methane fluxes from forested wetlands using inundation time series.
Kelly Hondula, Thursday 8:00 to 12:20, Poster B41G-2791
Friday
Geoscience Impact in a Complex World: Successful Collaboration with Social Scientists
Margaret Palmer (convener), Session U52A in Room 202A, Friday 10:20 - 12:20
December 9, 2018
July 16, 2018
"By reading about the most up-to-date solutions of restoration problems, those concerned with the sustainability of the environment may find it easier to restore degraded ecosystems." – Orsolya Valkó
The latest volume of Conservation Biology features a review of the 2nd edition of Foundations of Restoration Ecology, edited by Palmer, Zedler, and Falk.
June 20, 2018
Dr. Palmer was awarded the 2018 Ruth Patrick Award by the Association for the Sciences of Limnology and Oceanography at the society's summer meeting. This award honors scientists who have applied the aquatic sciences towards solving critical environmental problems. Congratulations Margaret!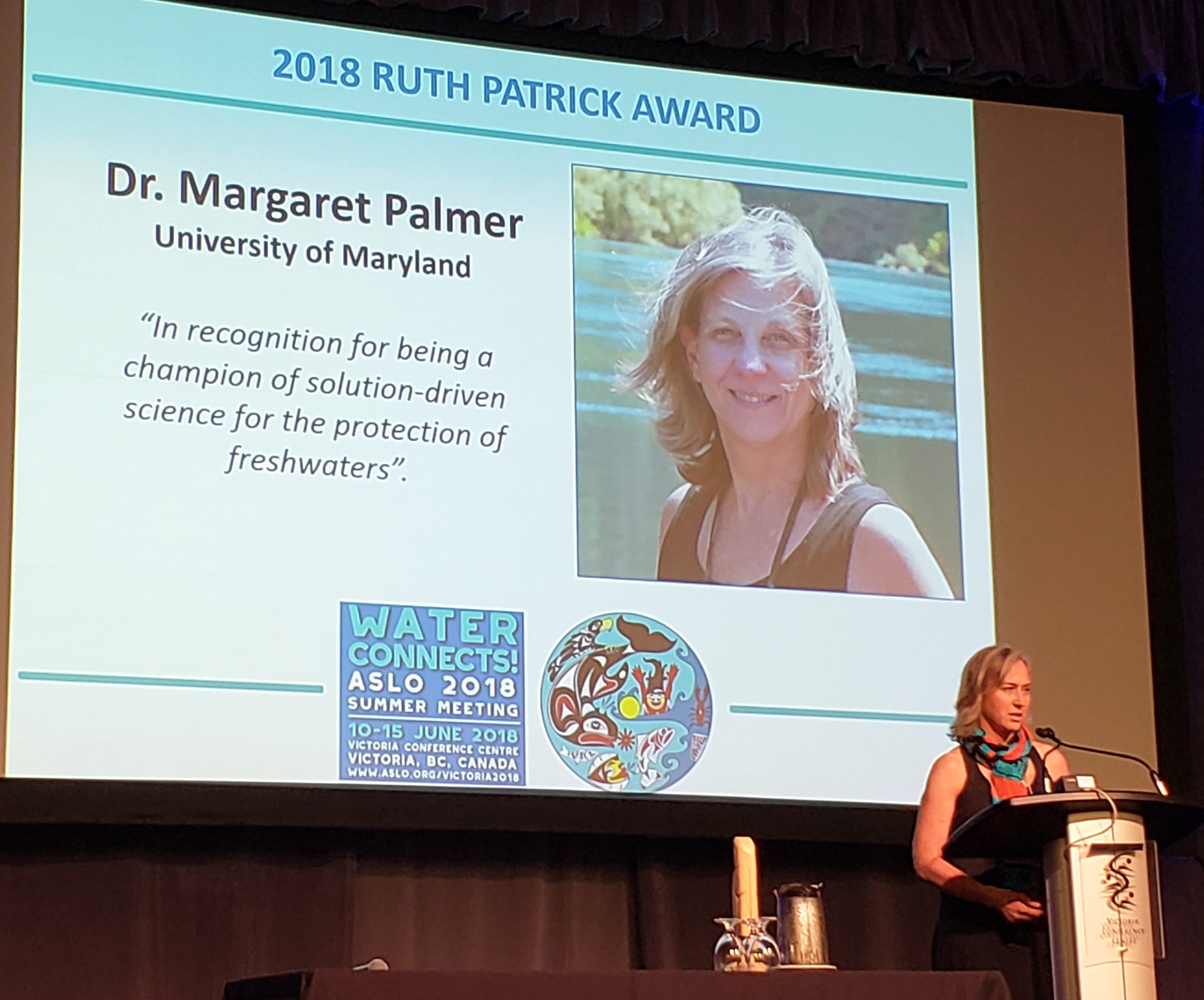 During the meeting, Kelly and Alec both presented talks on their latest research:
Kelly presented on Seasonal patterns of methane concentrations and fluxes from Delmarva Bays in relation to hydrologic variability
Alec presented on Using semi-continuous flourescence and absorption measurements during photoirradiation to characterize dissolved organic matter in a heterogeneous wetland landscape.
June 17, 2018
Summer fieldwork is well under way for the Palmer Lab! We are busy sampling gases, soils, wetland water, and setting up soil chambers, with the help of our fearless crew of summer undergraduate interns! Stay tuned for more of their scientific exploits this summer!